Overview
"ETPL has positioned itself as an end-to-end telematics solution provider. Our telematics products range from Web applications to hardware devices, embedded devices to external device enablers. Our products focused more on needs existing in the B2B verticals."

"ETPL is a leading solution provider of Machine-to-Machine (M2M) and Internet of Things (IoT) communication solutions that remotely track, monitor, and control fixed and mobile assets."


About Us
Einnovation Technologies is a Customer Application Specific Product & Solutions company offering INNOVATIVE solutions, which ranges across Intellectual Property (IP) cores, Design & Development, Prototype Development, Next-Gen Digital products, Integrated solutions, Low Volume Manufacturing, System Upgrades and Obsolescence management, Semiconductor solutions. ETPL is a leading developer of advanced electronic system level products and solutions to three primary markets. ETPL is headquartered in Pune, India.The company has been consistently evolving by setting new benchmarks in the Quality Design Process. ETPL strongly believe in Customer Focus, Creativity, Competence and Commitment which helps in enabling excellence in the work quality.
Real time Electronics
SLM, SLE, VTS
Created for major problems
Devices are using RFID,GPRS, GPS
& Environmental parameters
M2M and IoT solutions
Machine-to-Machine & Internet of Things that remotely track, monitor, and control fixed
and mobile assets
Our Development
To try the most advanced business
Soil Sensor
Giving instantaneous information on soil moisture content,salinity, temperature, and more, soil sensors are an important tool for anyone involved with soil, from a small-town farmer trying to increase his crop yield to researchers looking at how soil retains and off gases CO2. More importantly, just as computers have increased in power and dropped in price due to economies of scale, advanced soil measurement systems can be found at prices that are affordable for everyone.
ARM Development Board We make general purpose Evaluation board based on ARM7 micro controllers. This is very useful as a quick development aid- for example, if you plan to make a micro controller based product, it can be very convenient to buy and use.
FPGA Development Board
A board that uses a SPARTAN-3 FPGA series device
Interfacing to real world devices
Implementation of communication protocols
Developing our own application out of onboard component.
51 Development Board
This 8051 development board provides easy to use development platform useful to play with the hardware devices like LCD, Keyboard, Stepper Motor, RTC, ADC, RTC, Serial Communication. It also provides ISP programming facility.
RFID Access Control RFID Access control & payroll System is developed to use in organizations for the purpose of maintaining security as well as Access information of all the employees. This product makes use of RFID Card Reader in synchronization with the access control software. This RFID Card Reader device will be implemented at a particular Entry/Exit point in the organization for the security purpose. Every employee will be given a personal RFID Card when he/she joins the organization.
PIC Development Board
PIC Development Board is proposed to smooth the progress of developing and debugging of various designs encompassing Microcontrollers from Microchip. It's designed as to facilitate (16F/18F 40PIN DIP) On-board Programmer for PIC Microcontroller through ISP on Universal Serial port. It integrates on board USART, LEDs, keypads, 3 ADC inputs and LCD Display to create a stand-alone versatile test platform. User can easily engage in development in this platform, or use it as reference to application development.
View More
Electronics Manufacturing Services Activity
Facilities & Capabilities
Production support to customers to cater smaller volumes to larger volumes with same zeal. Working partnership with our customers for product development. Close interaction with our customers and suppliers.
Equipments
1) SMD Reflow Oven, Model RF-300, 3 zone, conveyorised, table-top with std.
2) SMD Stencil Printer ,Model SPR 500
3) Manual printer with X,Y,Z and Theta adjustment.
4) Wave soldering machine model DWSM 300LF, Lead Free, SMD wave, Auto flux,solder wave on-off, table-top m/c.
5) Ultrasonic cleaning machine tank- 12"x7"x8",250 watt,Temp ,timer, pcb basket.
6) Dispenser for spot dispensing with foot switch and 200 cc adopter.
7) Soldering Iron.
8) Magnifying Lense

Test & Measuring Equipment
1) Digital Storage Oscilloscope 200MHz
2) Digital Multimeters
3) Power Supply
4) DC Source
5) LCR Bridge
6) AC Voltage.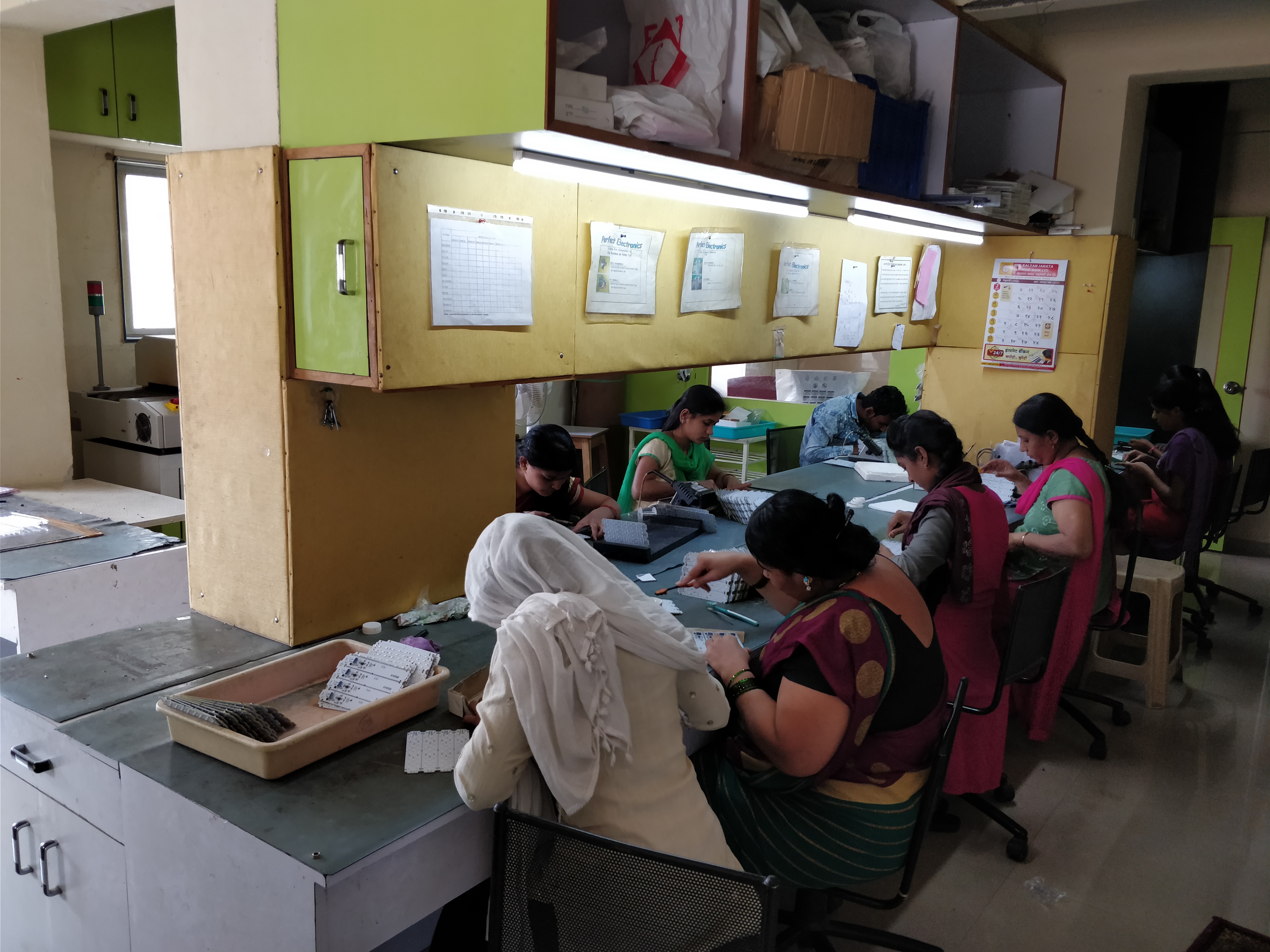 Group Companies
and let's see what are they saying
Qualität Systems is One of the Top 10 Most Promising Embedded Companies in India - Silicon India Magazine, Aug 2013
Chakradhar Borkute
CEO
Practical Technologies is a full-service electronics manufacturing services (EMS) company located in Baltimore, MD, with over 25 years of experience building products for communications, medical and various other industries, as well as the military.
Practical Technologies
Our Services
All Services
embedded System Services
VLSI Design
DSP Services
IT Services
---
Careers
---
Connect, Grow and
Bring your passion to work and accelerate your career at Einnovation
---
PHOTO GALLERY

---

Einnovation Technologies is a Customer Application Specific Product & Solutions company offering INNOVATIVE solutions, which ranges across Intellectual Property (IP) cores, Design & Development, Prototype Development, Next-Gen Digital products, Integrated solutions, Low Volume Manufacturing, System Upgrades and Obsolescence management, Semiconductor solutions. ETPL is a leading developer of advanced electronic system level products and solutions to three primary markets.ETPL is headquartered in Pune, India.The company has been consistently evolving by setting new benchmarks in the Quality Design Process. ETPL strongly believe in Customer Focus, Creativity, Competence and Commitment which helps in enabling excellence in the work quality.

---


Visual Studio

---

1) C# , MVC , ASP.net

2) Interns for duration of 6 months.

3) info@einnovation.in

---

---


Android Studio

---

1) Android Application developer

2) Interns for duration of 6 months.

3) info@einnovation.in

---

---


Python

---

1) Python Developer

2) Interns for duration of 6 months.

3) info@einnovation.in

---

---

Chakradhar Borkute

CEO & Founder

Believes in Creativity.

chakradhar.cc@gmail.com

Chakradhar Borkute

CEO & Founder

Believes in Creativity.

chakradhar.cc@gmail.com

Chakradhar Borkute

CEO & Founder

Believes in Creativity.

chakradhar.cc@gmail.com